Until 2011, LIC had been issuing cheques for paying policy owners upon maturity of their insurance plan and for claims. However, at this time, the only option to receive LIC fund payment is NEFT, which is an online money transfer system in India. Customers need to submit the details of their Bank account to LIC through NEFT form in order to allow the insurer to send e-payments.
Process to get LIC Policy survival benefit/maturity/claim amount online through NEFT
The advantage of NEFT payment over cheque is that you get assured online payment on due date. From a customer's point of view, it's like submit the NEFT form and forget. You don't need to visit your bank; LIC will do the rest. Read the whole process below.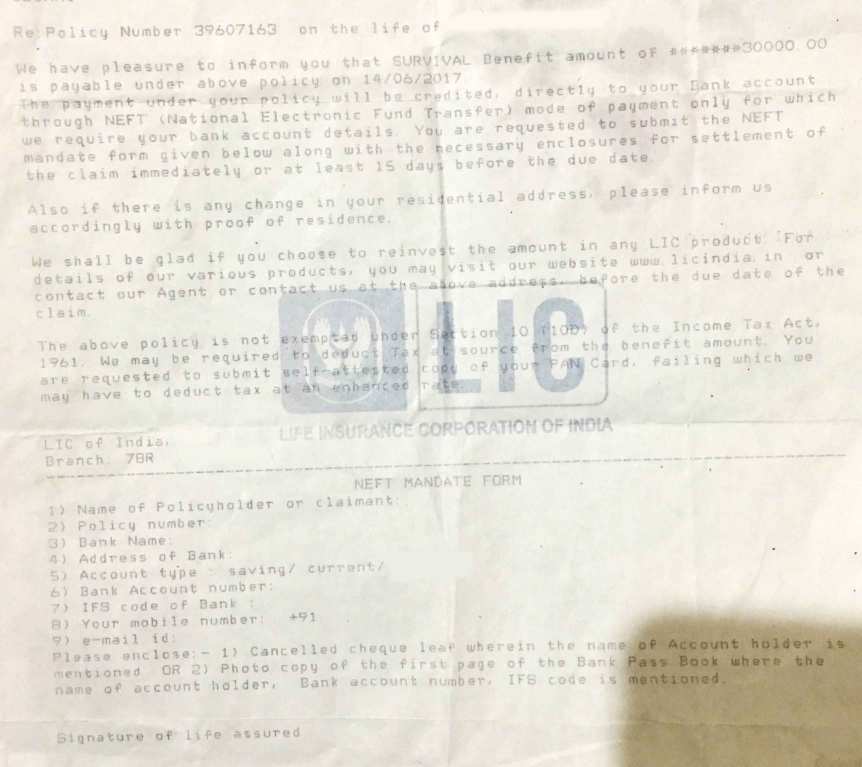 LIC usually alerts the customers regarding the imminent maturity of policies through regular mail. The screenshot you see above is the mail I got from LIC.
All the details of your LIC policy, including the amount you're about to receive, the due date for fund transfer, etc. are there in the document.
As you could see, a sample of the NEFT mandate form is there towards the end of the mail from LIC.
Check it and prepare all Information required for processing your claim account.
Finally, handover the application form along with the necessary documents to the LIC office mentioned in the letter.
After submission of the form, you won't get any updates from LIC regarding your NEFT status, that is my experience. Nevertheless, you will get the maturity amount credited to your account in time. I got the policy amount a day before the maturity date.
Download LIC NEFT form online for free
Alternatively, if you have a printer, you may download and print the official LIC NEFT application form in English. Download NOW. For those who own a group policy or a pension scheme, the application for LIC online fund transfer is different. GET IT HERE. We also have the LIC NEFT form in Excel format if you need that version (LINK).
Documents to submit for receiving online fund transfer from LIC of India.
The following are the information LIC requires the NEFT form. Do not to miss any section.
Name of the LIC policyholder and number.
Bank Name, Account Number, type of account, IFSC code and location.
Mobile Number and e-Mail ID for sending the status of online fund transfer.
A cancelled cheque leaf and a copy of PAN card (if fund value is above 50000 INR).
Medical/Death certificate and policy document in case of a claim.
You will get an SMS confirming your NEFT registration after a few days.
Downside of LIC's current implementation of NEFT based payment system.
LIC of India introduced the NEFT transfer nearly six years ago. However, the company still requires the customer to go to their office for submission of this form. It would have been far better if they have enabled a facility for adding NEFT form online through the Internet. Especially when they already have a well-built system for premium payments and checking policy status.