Page speed is now considered as an important signal that determines the position of a blog post or website in Google search engine. Keeping this in mind, we have developed the fastest* WordPress theme called WPsimpy. This theme is simple, clean and most suited for blogs using in-text advertisements. It can generate high CTR from Adsense when used in correct color combination. WPsimpy WordPress theme uses 100% valid XHTML and CSS code and it is SEO friendly.
WPsimpy WordPress theme screenshot: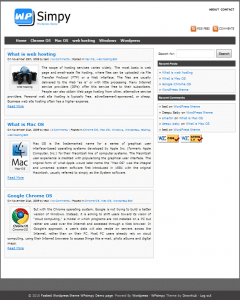 Features:
Compatible with WordPress 3.0.
Fastest loading WordPress theme.
100% valid XHTML and CSS
Highest Adsense CTR-when used with Blue color text ads.
SEO friendly:  Correct implementation of H1 tag, keyword density, speed and clean code.
Simple magazine style design.
Great support:  Ask your questions and customization requests in  the comment section.
Update: Thank you guys for your interest in WPsimpy WordPress theme. This theme is no longer developed. However, we provide speed optimization service for your existing WordPress themes. You may contact us in the comment section for the details of the service