LIC is going to transform the way they pay their customers. From 1, October 2011 LIC policy payments will be released online-directly to the bank account of the policy holder. As of now LIC is compensating customers with a check or hard cash upon policy maturity. Policy e-payment would be a great convenience for the working-class and pensioners, as they get their returns in time without any hassles. Opting LIC e-payment is secure, and it provides more privacy than cash transactions. The procedure for activating this facility is given below.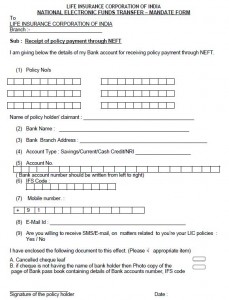 Both individuals and members of the Pension and Group Policy schemes are eligible for the LIC NEFT pay-out. LIC India has provided separate request forms for these categories.
Download LIC e-payment application for Individuals and P&GS here.

The details required to fill the e-payment request form includes bank name, IFSC code, branch address, policy number, mobile number, etc. Extract the ZIP file and select the appropriate form, print it and write down the necessary information. Then submit it to the nearest LIC policy servicing center along with a canceled cheque. In future LIC will send the policy maturity benefit, fund value, sanctioned loan, surrendered amount, pension, etc. through NEFT to the registered bank account.