Around nineteen Indian public sector banks have decided to conduct a common entrance test to select suitable candidates for filling existing/future vaccines in their firms. The exam will be conducted under a platform designed by IBPS, and the scores will have validity for one year from the date of result. The first IBPS exam is scheduled on September 18 2011 and applications will be accepted until August 3.
The IBPS exam is planned as a qualifying test to pre-select probationary officers and management trainees in different banking cadres. Rather than conducting separate exams bank can now track down a pool of talent and fine tune it again based on their benchmarks. IBPS scores (CWE score) will be mandatory for all upcoming recruitment in the participating banks. Final merit of the banking aspirants will be decided to the basis of CWE score, educational qualification, age, and preference in interview and group decisions. Each bank will decide the minimum score required for their intakes.
Update: This article is at least 5 years old. For the latest Bank Exam notifications, alerts, and updates, visit our always updated and dedicated page on IBPS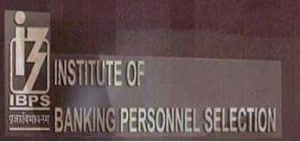 State Bank group (SBI, SBT, SBM, SBH, SBP), HDFC Bank, ICICI Bank, Federal Bank, South Indian Bank, Axis Bank, Yes Bank, IDBI Bank, Kotak Mahindra and some other private sector banks are not a part of this common bank entrance test. However, we can expect the State Banks to join the league any time soon. As we pointed out before the CWE scores will have a validity for one year. That means the coming exam on September is valid throughout 2011- 2012 and candidates can apply for all vacancies in this period.

IBPS Exam pattern and syllabus:
IBPS will organize a written examination comprising Objective and Descriptive papers. Objective section carries 225 marks and should be completed in 150 minutes. The 250 questions in this section will include Verbal/Numeric Reasoning, General English, questions related to Banking/Insurance/Investment sector, Computers, and typical quantitative aptitude. The Descriptive section (60 minute) will analyze the English writing caliber of the candidate, and it carries 25 marks. We will get more details the Syllabus and question pattern after the first IBPS exam.
IBPS exam centers, participating banks, eligibility and requirements.
Any Indian national with a valid degree can appear for IBPS Exam if he or she is in the age group 20-30 as of July 2011. Reservation is available SC/ST/OBC/ handicapped contestants. The application is only accepted through the official IBPS website. Candidates should pay the Exam fees (General-450; Reserved-50 INR) through an online system or through offline net transfer at local banks. Then fill the IBPS web application form with the payment, personal and professional details, scanned copy of a recent photograph and signature. Exam call letter will be available on the same website after September 4 2011. Candidate should download and print copies of call letter and fees receipt for submitting them at the Exam centers. Download the full notification here. The official IBPS website seems to be down at the moment-but you can register online here.

IBPS site is throwing some errors as thousands of people are trying to apply for the test at the same time. I request you guys to prepare all documents and check the direct link ( given above) at late night. Some commentators have already posted about preparing a signature for uploading. Please browse through the comments (check below) to know more.  I'm taking time to go through your comments (there are a lot actually). I personally thank all commentators who have helped others.
IBPS exam preparation Book/Study material:
Any bank PO exam guide can be used to prepare for the IBPS test. One book we personally recommend to all our friends and readers, is the Bank PO/MT Solved Papers For Common Written Examination 2011 published by Kiran Prakashan (English/Hindi). This book contains questions from various PO exams conducted from 2003-2011 and its solutions. You can buy this book online here. This site is trusted by thousands of people, and you can expect the book in your hands within 3-4 days after completing the order. If the book is not in stock, search for the term "Bank PO exam" in the  box provided on their website- you'll find some good alternatives.